Iphone, will it blend?
Back to buzz archives.


thibault (2010-10-14)






Iphone, will it blend?


Iphone, it can do everything... but will it blend?

Source : Youtube



----------

Avis aux Djs, voici un mix avec un Iphone, mais attention à vos oreilles, le résultat est assez expérimental. En attendant les vraies platines virtuelles




universal.electronica (2010-11-03 11:51:00)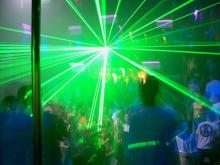 Iphone, will it blend?

Quelle charcuterie, ça fait peine à voir... ça marche aussi avec des platines cds ?


ficgs
Suggestions


ficgs
Plus de sources

Vous devez vous enregistrer pour consulter ces sources, vous pourrez alors changer leur ordre en cliquant sur les icones les précédant.



admin
Autres sources

Ce projet est collaboratif, vous pouvez remonter les sources suivantes dans la liste si vous les trouvez utiles.





* ? | Presented by Blendtec Videos
willitblend > videos/view/129&sa=U&ei=jB5JT mGMILhggf7kejzDQ&amp
Below you will find a collection of videos that are NOT safe to try

There's no trackback at the moment.
---